Love and Bless every moment.

That's a delicious challenge of enlightening proportions & promise.
Loving & blessing what is, as our main spiritual practice.
Even as we do so imperfectly, as we will, we don't let that stop us from a practice of incredible, monumental, life-affirming transformation enhancement.
What if our spiritual practice was to love & bless every moment no matter what?
What if we practiced loving & blessing all the things, all the moments, especially, all the ones that are un-welcomed, or cause us frustration, displeasure, pain, etc?
What if we decide to love every moment, whatever way it shows uP?
That does not mean that we just blindly accept things we don't like, approve of or prefer, it simply means we love them anyway, even as we may choose to change those things.
"Everything is perfect about the universe, including y/our desire to change it."
By loving every moment, by blessing and loving all that shows uP, we are in fact influencing and pouring forth that loving energy on that which we may not like and judge.  Thus, we are allowing it to be influenced, re-shaped and transformed by our energy.
We trust that this process of loving every moment is filled with opportUnities, blessings and gifts.  All are, of course, secondary by-products of our practice.
Primary is the practice of loving what shows up.  Even if after doing so, we don't see immediate or any change, we trust that our practice and process will lead, guide & direct us eventually to the very essence of the loving energy vibration we put out.
We trust that as we are being & doing our part, the Universe will fill in the time, details, and manner in which our loving, waterfalling energy shows up.
Loving what is, is our part.  How and When is the Universe's part.
We of course may slip, fall back and not love every moment.  Inevitably, life has many many challenges before us, for this not to happen, from time to time.  Still, loving every moment is a practice.  Like all things, it will improve with practice.  We love, honor and forgive ourselves when we don't meet our high ideals, or even our lesser ideals.
We pick ourselves uP, dust ourselves off, and start, once again, practicing loving & blessing what is.  As we do so, in the days, weeks, months & years to follow, what do you think will happen to y/our experience and the experience of those around us?
Two simple & profound examples.  Instead of the often heard, angry or frustrated proverb, "God damn it," etc., we practice "God bless it!" as my grandmother did, or as another friend says "Lord have mercy!" or some close alternative.
I will tell you, in a state of unbridled, cosmic, serious light-heartedness & fun, that the High Council of the Angels has met regarding this practice; they have seen our future and are already celebrating, as you read this.
The Angels also whispered to me that:
"This practice has within it an unrelenting beauty, that pours forth from its simplicity."
So start practicing Loving and Blessing every moment as best you can, and let that energy be the stronger determinant and influencer of your life.
Was this article helpful? Feel free to leave a comment below.
Turbo-charged, high-definition "loving what is" blessings to all. -M
NEW FEATURE!  free spiritual workshop notes:
Skywriting Across The Universe
uPdated weekly! click below:
Markoworld Playshop notes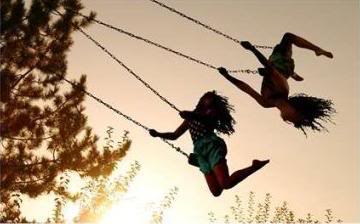 Finally:
Whether you walk the path of Buddha, Jesus, or study the Way of the Buffalo, or seek the wisdom of the Gray Turtle, The Flying Nun, or the Oracle of the Blueberry Muffin, or search for the holy grail, or go the path of looking for the uneaten bag of grammy's chocolate chip cookies,
Don't forget to share, Tweet, Facebook & pass on this blog or other articles here you think others will enjoy.