Updated Friday June 3rd, 2016.
You can check out the entire book by clicking the PDF file below!
My new book the "Tao of Coloring" is finally out!  The project started last summer and was recently printed and is up on amazon books & is getting rave reviews!
It boasts one of the most eye catching front covers (& back covers) ever seen on a coloring book as you can see with the PDF link above.
One-of-a-kind in the adult coloring book world, there is no other out there like it.  It's coffee-table size allows for highly detailed coloring.  Also, it includes my own positively uplifting, cosmic, spiritual, metaphysical & humorous quotes.  Such as:
"Visualize & feel what you want to see, and it will be, eventually."
"Be a kindaholic & gratitude junkie."
"How big of a barcode do you think you need, to scan the Milky Way?"
The book includes 50 drawings & quotes plus a bonus drawing of a dragon fly.
Below is the back cover.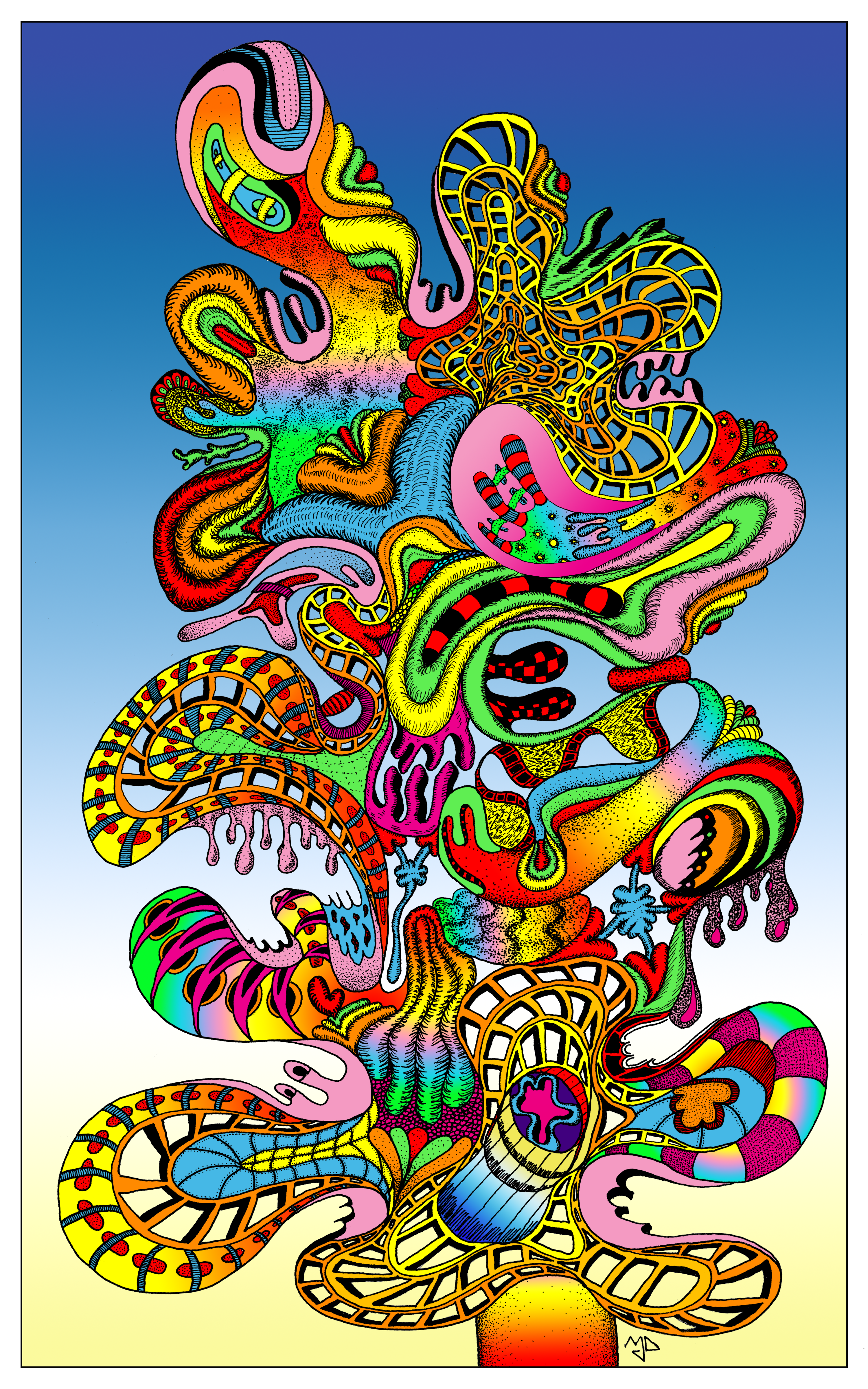 Here's a recent unsolicited review:
Verified Purchase
I just received this Tao of Coloring Book and absolutely love it! It is more beautiful than I thought it would be and it looks beautiful online. The overall quality of how it is made is wonderful. I like that the book is oversized allowing for plenty of room to play with coloring the incredible designs. What sets this book apart from others is opposite the design page there are insightful quotes to get help you into the flow of intention while coloring. My friend was here when it arrived and we could not stop looking at it. I cannot wait to get started getting into the Tao and am glad I choose this book.
You can buy the book on amazon: http://www.amazon.com/Fantastic-Adult-Coloring-Book-COLORING/dp/0692682147/ref=sr_1_8?s=books&ie=UTF8&qid=1460130695&sr=1-8&keywords=The+Tao+of+coloring

You can buy it direct in Milwaukee WI @ Sharehouse Goods 
See us on Facebook too. https://www.facebook.com/The-Tao-of-Coloring-600381703449051/?fref=ts

Let me know what you think.
Magical blessings,
-Marko
P.S. From the amazon description:
"THE TAO OF COLORING" is a meditative adult coloring book like no other. The sheer size of the book, with its unique and psychedelic art work, allows everyone countless hours of of relaxation, entertainment and colorful fun. Extremely detailed, THE TAO OF COLORING offers coloring book enthusiasts the opportunity to explore the final frontier of adult coloring. This book stands alone, as there is not a single book out on the market to compare it to. Plus, it's filled with humorous, cosmic and spiritually uplifting quotes by the author. So suit up, tune in, turn on, and get lost in the enchantment of THE TAO OF COLORING. "